Delight the children in your life with a fun and memorable gift this season. Kiwi Crate delivers hands-on projects in arts, crafts and science right
to your door!

Award-winning projects perfect for kids ages 3-7 and designed to encourage creativity, exploration and discovery.
Choose a monthly or a 3, 6, or 12-month gift subscription for less than $20 per month + free shipping!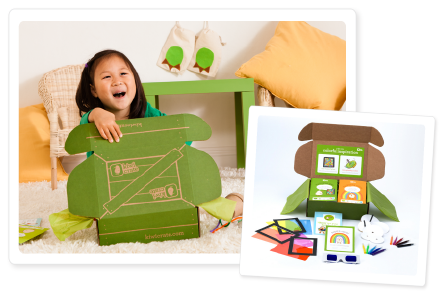 Each crate includes all the materials needed for multiple projects
Reviewed by child development experts;
designed to develop key skills for kids ages 3-7
Dr. Toy′s 100 Best Children′s products of 2012, Parents′ Choice Gold Award Winner, and Toy
Portfolio Gold Seal Best Toy Award!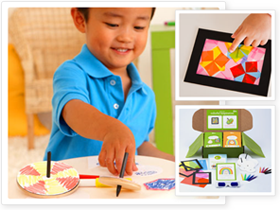 Our October 2011 crate included three fun projects to encourage children to explore how colors mix and react with each other.

1. Spinning Colors: Design your own patterns on a top. Spin the top and see how they change!

2. Stained Glass: Make a colorful, stained glass, hang it in the window and watch it catch the sun.

3. Tissue Tie-Dye Bag: Create a colorful tie-dyed bag. Perfect for toting books and snacks!