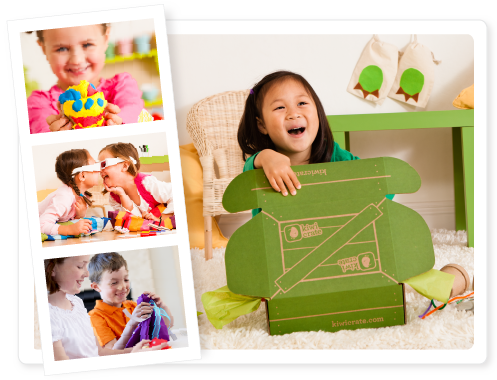 Encourage Creativity, Exploration, and Discovery with Kiwi Crate!
Kiwi Crate delivers a box of fun and engaging arts, crafts and science projects to your door every month.
Our award-winning projects are perfect for kids ages 3-7.
Sign up today and use your referral credit to get $10 off!
Monthly
$19.95
Cancel any time.
Year
$204
One month free.
3 Month Gift
$59.85
Why Kiwi Crate

Each crate includes all the materials needed for multiple projects
Reviewed by child development experts; designed to develop key skills for kids ages 3-7
Dr. Toy′s 100 Best Children′s products of 2012, Parents′ Choice Gold Award Winner, and Toy Portfolio Gold Seal Best Toy Award!
Sample Crate - Colorful Inspiration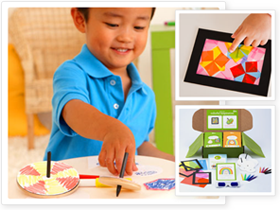 Our October 2011 crate included three fun projects to encourage children to explore how colors mix and react with each other.

1. Spinning Colors: Design your own patterns on a top. Spin the top and see how they change!
2. Stained Glass: Make a colorful, stained glass, hang it in the window and watch it catch the sun.
3. Tissue Tie-Dye Bag: Create a colorful tie-dyed bag. Perfect for toting books and snacks!