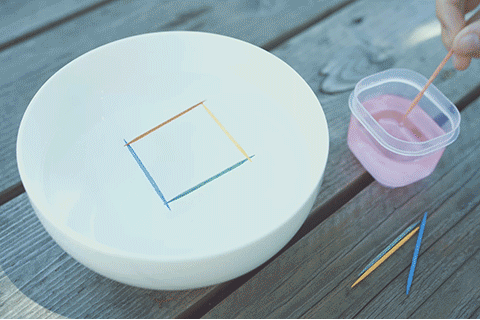 If you try this toothpick trick, be ready to do it over and over again. It's just so fun to watch! First, you float toothpicks on the surface of the water. Then, just a touch of dish soap makes the toothpick shape fly outward.
This toothpick experiment is a really fun way to explore surface tension with kids. Just floating the toothpicks on the water is quite a discovery.
What's going on?
Water molecules tend to want to hold onto each other. Think about how water joins together to form little beads when you drip it onto a smooth surface like a plate or wax paper. This is called surface tension. The water molecules in your dish are holding onto each other so tightly that the toothpicks are able to float on top.

Adding dish soap breaks apart the bonds that hold the water molecules together. This disturbs the floating toothpicks and pushes them outwards, which breaks up the square. That's how the toothpick trick works!