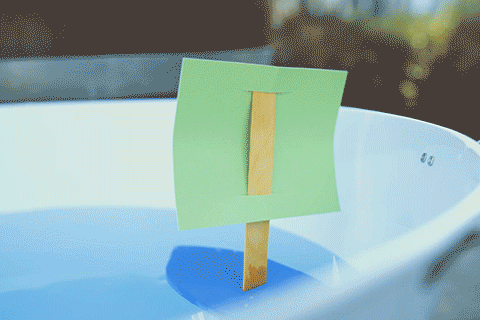 This foam sailboat craft is one of the DIY projects for kids that combines fun and science. This cute, foam sailboat craft isn't just a fun toy, it's also a great way to introduce an experiment that even very young children can participate in. This sailboat has a rudder that can be place in the three positions. Each position will steer the boat in a different direction.
Before you start, ask your child what direction he or she thinks the boat will go and write it down. After you try it, compare what happened with what you predicted. This can lead to some fun discussions of why the prediction and result matched, or didn't!
What's going on?
When you blow into the sail, the rudder smacks into the water as the boat moves through it. The water pushes against the rudder, but if the rudder is turned to one side, the water doesn't push evening. One side of the rudder gets a bigger push from the water than the other, and the boat turns. The rudder on a real boat works the same way — just much bigger!