Whole Wheat Goldfish Crackers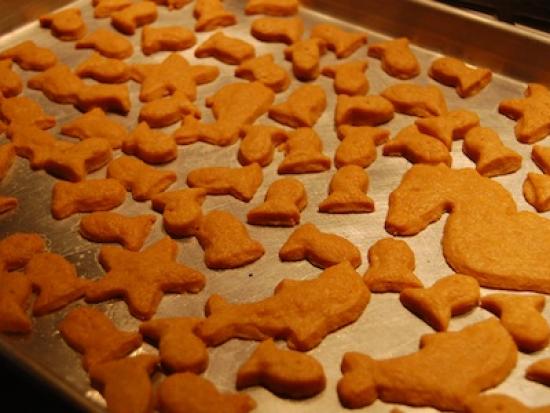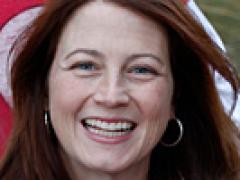 I know what you're thinking. What busy parent has the time or inclination to remake something that has clearly been PERFECTED (in our children's eyes / mouths) by Pepperidge Farms? Have I gone mad?? Well, I stumbled across this recipe recently on my favorite food blog, and it looked so easy I had to give it a try. Plus, the idea of mini goldfish cookie cutters was so darn cute. I went to the website that Smitten Kitchen recommended (here), and was overwhelmed by the awesome assortment. Who knew there were so many adorable cookie cutters in the world?
How We Did It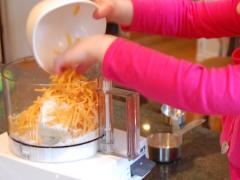 The recipe Smitten Kitchen adapted hers from used all white flour, so you can certainly do that if you don't have / don't like whole wheat. I thought they turned out great - kind of like a nutty-tasting cheese straw, and most importantly, my kids liked them - so I will stick with the slightly healthier version. Dump everything into a food processor (bonus: you can use it to grate your cheese first, if you don't buy it already shredded.)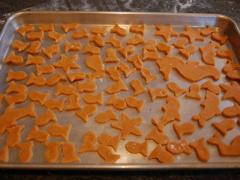 If you like, you can poke holes with a toothpick-type tool for eyes. Place them on an ungreased cookie sheet. Check out our crowded school of fish...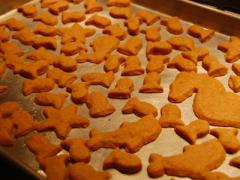 Bake in a 350F oven for 12-15 minutes, until the edges just start to brown.

These were a total hit in my house. The lone sea horse was devoured almost as soon as it came out of the oven and all the sea animals soon after. My 4-year old gave it an enthusiastic two thumbs up and declared "Mom, you've gotta taste these!" I'm certainly not swearing off the Pepperidge Farms originals (what busy mom could??), but I'll happily make these again and feel good about putting a handful in my kids' lunch boxes (alongside a sea-horse shaped turkey sandwich, of course!)
Comments
0 comments
No comments yet, be the first to write one!
Similar Projects
Popular Projects